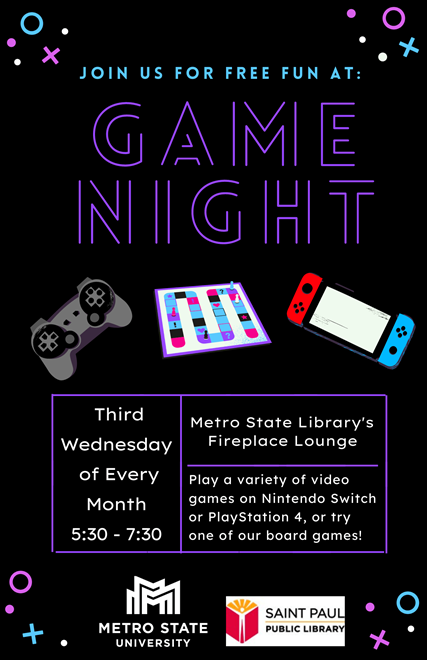 Need a break from homework? Come to Game Night! Located in Metro State Library's Fireplace Lounge, you can play exciting video games like Just Dance, Super Mario Kart, The Legend of Zelda, Madden, and many more on Nintendo Switch or PlayStation 4.
Tired of staring at a screen all day for homework? Try a board game! Bring a friend and demonstrate your knowledge by playing Trivial Pursuit. Challenge your financial skills by bankrupting your accountant in Monopoly! Game Night welcomes everyone, including non-students.
Here is a list of all the games: https://libguides.metrostate.edu/gamenight/home
If the extensive list of games doesn't pique your interest, feel free to bring your own from home! Game Nights are held every third Wednesday of each month from 5:30 pm to 7:30 pm. We hope to see you there!
P.S. There will be snacks.