Joseph Palumbo
Arts and Entertainment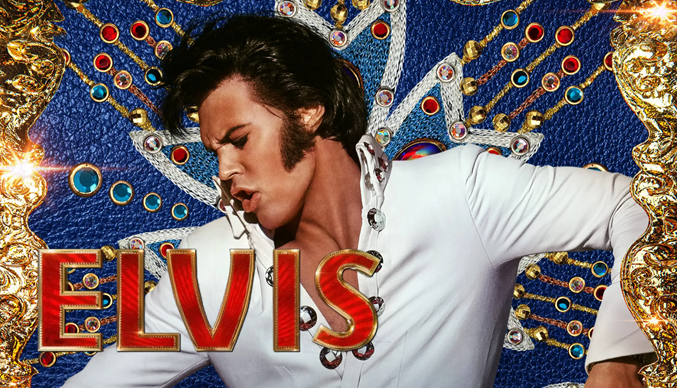 (Property of Warner Bros. Pictures)
Elvis Presley is a name as quintessential to the history of American music as Abraham Lincoln is to American politics. Iconic men, larger than life, and captivating both to those who knew them (be it out of love or hate) and the countless millions of those who look back on their legacy (also out of love or hate). Referred to by many as "The King of Rock and Roll", both his music and the image he cultivated onstage ensured his place not only in popular culture but as a milestone in modern music. Hailed as a hero and mocked as a clown, Elvis has been the subject of both urban legends and parodies, both in life and well after his death. Even today, one cannot walk down the Vegas strip without seeing the many impersonators and neon-studded tributes to "The King".
Directed by Baz Lurhmann (known for equally stylized films like Moulin Rouge and The Great Gatsby), the story is mostly told from the perspective of Col. Tom Parker (Tom Hanks), Elvis's crooked manager. Rising out of poverty in Jim Crow-era Mississippi, Elvis (Adam Butler) finds both joy and inspiration in the music of his African American friends and neighbors. Despite the social mores of his time and place, he frequents the predominately black Beale Street in Memphis where he discovers a "who's who" of legendary musicians like Arthur Crudup, Little Richard, Big Mama Thorton, and B.B. King. Building on the tunes that defined the sound of the South, Elvis's music electrifies the entire country and in doing so makes him one of the most famous and influential rockstars of all time.
What follows is what sets this film apart from your run-of-the-mill biopic. While some would argue that the sinister record producer has been a played out cliche in movies of this sort, Col. Parker is given slightly more depth than such characters are usually given. Yes, he is certainly the kind of greedy, conniving, con-man one would expect, but the film also shows rare occasions where Parker would lend a sympathetic ear and even express genuine pride in Presley's accomplishments. Parker argues that while many would indeed paint him as the villain of this story (as Luhrmann notes, "he's not easy to love"), he was instrumental in the rise of Elvis Presley and, by proxy if not intent, the cultural upheaval that came with his popularity.
While Elvis impersonators are a dime-a-dozen, Austin Butler's performance feels like a genuine attempt to step into the old "Blue Suede Shoes". Butler portrays Presley with incredible fidelity, as though he personally decided to live and breathe the life of Elvis. Although I hold little regard for the Oscars, I have no doubt in my mind that Butler will be a contender for Best Actor and it will be a well-earned nomination.
This movie was not the first attempt to retell Presley's life through film. There was a made-for-television movie, directed by John Carpenter and starring Kurt Russel (who, in fact, personally knew Elvis), released just over a year after the man's death. However, this recent account of Presley's life accomplished something that none before it ever did. It reminds us that much of his fame was built by the talent and effort of others, in addition to his own.
Laudably, the film shows the tremendous extent to which his music was influenced by the works of African American artists. The entire genre of rock and roll, and indeed all the genres it influenced, owes its existence not only to black performers but also from their lived experiences in a nation that treated them as second-class citizens. On very few occasions, if any, has this basic acknowledgement been made when retelling Elvis's story, much less the broader story of rock music. Such omission is not only shameful for glossing over the contributions of an entire segment of the American people, but also for watering down the wonderful melting pot of American music. On that note, I find it particularly admirable that the movie's soundtrack incorporates more modern music genres with the contemporary songs of the 1950s. While some might find hip-hop too distracting in a story set over 60 years ago, it serves the film well by showcasing the impact Elvis had on the music industry.
With rockstar bipoics, and indeed any cinematic account of real people, there is often a tug-of-war between historical accuracy and artistic expression. Creativite liberties are indispensable in telling such stories with a limited runtime, but this leaves us with the inevitable question: what is worth leaving in and worth leaving out? The creative team behind Elvis clearly wanted to pay tribute to this legendary figure but, for the most part, were careful to do their homework beforehand. It does a good job of juxtaposing Presley's life with the times in which he lived without coming across as too ham-fisted, even though some of his less flattering details are omitted, such as his insane junk food diet and the dubious origin of his relationship with his wife Pricilla.
Overall, Elvis is about as good as Hollywood can get in recreating the life of "The King". While Bohemian Rhapsody feels more like a big budget karaoke night than a deep exploration of Queen's legacy, this film is a fantastic attempt at balancing hyperstyalized kitsch with a sincere human-interest story. Rather than play to simply bring in Elvis fans, the music is organically woven into a larger story. The song "Heartbreak Hotel" takes on a new meaning when it is played in Las Vegas's International Hotel, where the seeds of Presley's downfall are planted. "Are You Lonesome Tonight?", a song about lovesickness, becomes a self-reflective ballad of Presley's own sense of loneliness.
Touches like these make this movie so special; when telling a musician's story, it's important to show what the music says about the musician. When telling the story of a musician as monumental as Elvis Presley, it's important not only to show what made him so beloved but why his short presence on this earth left such an enduring impression on so many people.