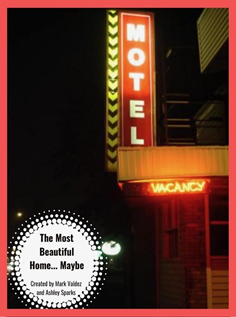 (Lucas Erickson / OnStage)
Joseph Palumbo
Reporter
In the spirit of Chaplin and Orwell, Lucas Erikson was proud to introduce an old play brought to the stage last fall, written 80 years ago, satirizing dictators and their rise to power. The Resistible Rise of Arturo Ui tells of a gangster who mimics the strategies and mannerisms of past dictators, particularly that of Adolf Hitler himself. Erikson states that, while the play may not be as topical, the story of Arturo Ui will remain relevant as long as "fascism is still relevant".
This play is just one of many that Erikson and others have helped bring into the limelight.
Erikson is the founder and program manager of an organization known as OnStage, a theater outreach program that brings actors and theater educators into classrooms and community settings around the Twin Cities.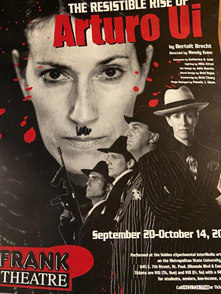 (Lucas Erickson / OnStage)
The program's upcoming project entitled The Most Beautiful Home… Maybe, created by Mark Valdez and Ashley Sparks, is a commentary on the subject of race and housing in America. Touring four cities across the country, including Minneapolis, the play aims to use art as a tool to discuss and influence housing policy, especially as it pertains to its lengthy history of racial discrimination.
To accomplish these aims, OnStage brings together community stakeholders to investigate the issues in each city. They will then use the information gathered to create a play to be performed in each participating city. Community workshops will be organized with local partners to bring together relevant stakeholders including people experiencing housing insecurity, policymakers, commercial developers, and community development corporations and advocates. By reaching out to representatives of these groups, OnStage strives to spark dialogue about these plays by bringing people together that would not interact with each other otherwise, in order to foster systemic change.
There is a clear precedent for bringing the topic of race and housing to light. Between 1910 and 1955, data was collected concerning Hennepin County's racial covenants. According to the University of Minnesota's "Mapping Prejudice Project", these covenants were legal clauses
embedded in property records that restricted ownership and occupancy of land parcels based on
racial groups. These policies were one of many involved in the practice of redlining, a system which denies members of minority communities access to the housing market, whether directly or indirectly, based on location rather than qualifications.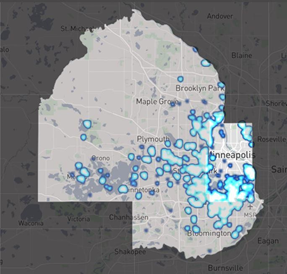 (University of Minnesota Mapping Prejudice Project)
While racial covenants were outlawed in the 1960s, the legacy of this practice lives on.
The overt redlining of yesterday greatly contributed to the crime, poverty, voter suppression, and racial division present in our nation today. While more covert, the practice of redlining continues and remains responsible for the ongoing racial wealth gap.
In the hopes of effectively changing policy and making live theatre accessible to as many people as possible, Erikson will work with troupes of actors, artists, and technicians to present the show outside of conventional theatre spaces. While there are plans to present the show at the Mixed Blood Theatre, online presentations will take place to accommodate social distancing.
Metro State's own Diana Dean, senior professor of social sciences, expressed both optimism and gratitude with the project and those involved in it respectively, summarizing the mission of the play "to interrogate the founding principles of 'We the People' and 'All men are created equal' as we consider the great writings of the social sciences. We have been discussing the ways that inequality is created and sustained and institutionalized."
If all goes according to plan, The Most Beautiful Home…Maybe will premier in Minneapolis this fall. No matter the form in which it is presented, it is hoped that the play will shed light on an important topic of debate that few have been willing or able to discuss.
Whatever the subject, there is no doubt that OnStage has much to say about our country and society as a whole, and it seems the strongest way to share these ideas has been through the art of live theatre.