When Metro State student Daemeon Stanton first joined Lavender Bridge—the campus organization for lesbian, gay, bisexual, transgender, queer and ally students—he had a memorable experience at a club film screening of "The Bird Cage."
"I distinctly remember two straight men coming in and at first being slightly uncomfortable when they realized the movie was about gay drag club owners," Stanton said. "By the end, they were able to laugh along with us to the crazy antics."
"It was something small, but I think that just widening people's worldview to actually include people like me is important work."
Now, Stanton is president of Lavender Bridge, setting his sights on ever-widening worldviews.  
Ideas and inspiration can come from travel and meeting new people. Lavender Bridge members were among the 2,000 students that headed to Kansas for MBLGTACC (pronounced "mumble talk"), the Midwest's largest annual conference for queer and trans+ college students. It was held at Wichita State University, Feb. 15-17.
"This is an amazing opportunity for Metro students," Stanton said. "As someone who has gone in the past, I can attest to it being a life-changing experience for any queer person, but also because panels are centered around ways to bring more intersectionality and pro-diversity tactics back with you to your student org and overall campus."
Keynote speakers included Jessica Pettitt and Nyle DiMarco.
Pettitt speaks about social justice, diversity and change management. She is the author of "Good Enough Now: How Doing the Best We Can With What We Have is Better Than Nothing."
DiMarco is an advocate and speaker for deaf rights. He was on "America's Next Top Model" and "ABC's Dancing with the Stars."
Lavender Bridge advisor Sam Poindexter, Women's and LGBTQ Student Services Coordinator for Metro State, praised the professional development and networking opportunities at the conference.
"I really hope they come away with more confidence in their ability to be student leaders," she said.
Closer to campus, Lavender Bridge members use what they learn from conferences to organize events and bring in speakers.
"I think so far our overall goal for our events has just been to expose people to someone different than they are," Stanton said. "Most cisgender and heterosexual people will not seek these opportunities out on their own or perhaps might not even know about them."
Last April, Lavender Bridge brought "Queersplosion" to the Student Center. The open mic event included karaoke, spoken word, poetry and rap. It also featured a musical performance from Lil One (Dom Giovon). Giovon is a transgender rapper and activist from St. Paul.
This spring, the club is considering a drag queen story hour at the Dayton's Bluff Library. During LGBTQ Health Awareness Week, they hope to offer a sexual health class with professional educators from Smitten Kitten, a Minneapolis adult novelty store.
They will also host "GAYme Night" on Thursday, April 11 from 4-8 p.m. in the first floor lounge of the Library and Learning Center. A variety of video and board games will be available.
"People can come chill and play some nerdy board games with us," Stanton said.
Lavender Bridge typically holds meetings in the Women's and LGBTQ+ Resource Center, Founders Hall, room 140. Meetings offers a "supportive environment," said Lucy Duroche, treasurer of Lavender Bridge.
The meeting room has a clubhouse atmosphere decked with colorful decor. It also contains a small library of LGBTQ books (fiction and nonfiction) and health information pamphlets.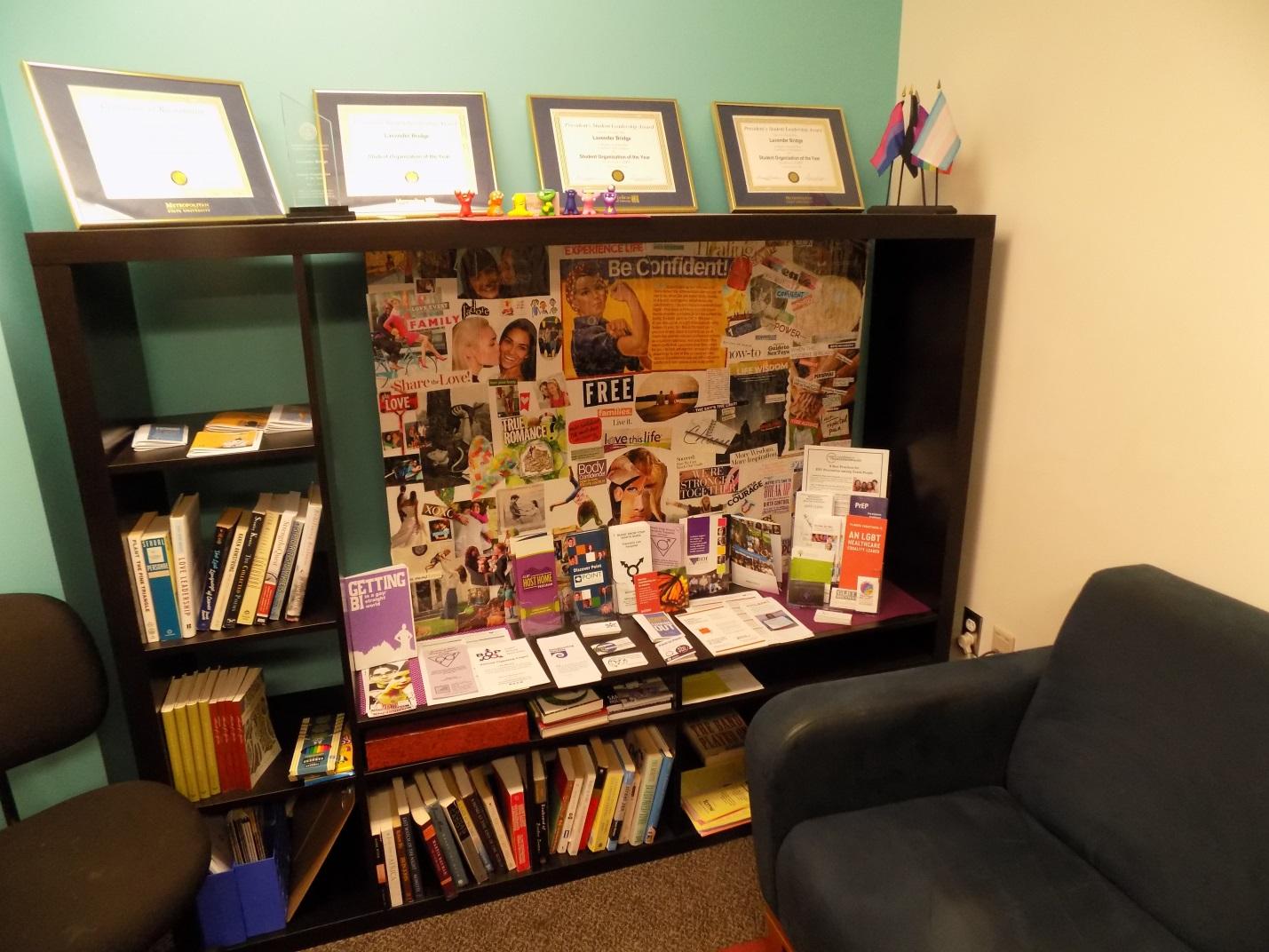 Students that stop in may soon get caught up in chitchat. Topics of conversation at the Jan. 16 meeting covered academic majors, coursework, dreams, history, heritage, DNA kits, television shows and World Wrestling Entertainment (WWE).
"Come if you are interested in an inclusive, diverse environment full of people who celebrate those who break norms of gender and sexuality," said Casey Landrum, vice president of Lavender Bridge.
For more information on Lavender Bridge, see orgsync.com/48884/chapter.
Begin to be an ally to the LGBTQ+ community on campus
The Women's and LGBTQ+ Resource Center offers a free ally training certificate program. To receive a training certificate and sticker, allies complete three workshops.


Upcoming workshops:
"Moving from Actor to Ally"
Tuesday, March 12, 6–7:30 p.m., or
Wednesday, March 27, 6–7:30 p.m
Science Education Center, room 308
"LGBTQ in the Classroom"
Friday, March 29, 1-2:30 p.m.
Library and Learning Center, room 307
"Full Ally Development Training"
Friday, April 5, 1–4:30 p.m.
Library and Learning Center, room TBA
"Supporting Queer and Trans People of Color"
Friday, April 12, 1–2:30 p.m.
Library and Learning Center, room 307
"Being a Trans Ally: Cis-Privilege Workshop"
Friday, April 19, 1–2:30 p.m.
St. Paul campus
To register for workshops, visit eventbrite.com/e/ally-training-workshops-at-metropolitan-state-university-tickets-56000834002.
For more information, email WLGBTQ@metrostate.edu.