Metropolitan State University hosted candidates for statewide offices in a KSTP-TV debate broadcast from New Main Great Hall on Oct. 21. The debate aired live without commercial interruption.
The candidate matchups ran the gamut of optics, tone and tenor.
The first debate was recorded earlier on Sunday, when sunlight still streamed through the Great Hall's towering windows. Sen. Amy Klobuchar, citing a scheduling conflict, ended up debating Republican challenger Jim Newberger without a live audience, hours before other candidates arrived on campus.
One debate was one-sided: Republican senatorial candidate Karin Housley had the stage to herself for 15 minutes because Sen. Tina Smith declined the invitation to participate.
The gubernatorial debate offered contrasts between the candidates but a collegial tone. Jeff Johnson and Tim Walz talked passionately about policy positions without raising their voices.
But the last debate of the night? Fireworks flew. Attorney general candidates Keith Ellison and Doug Wardlow seemed to find no common ground in the Great Hall.
Absent from the Metro State stage were third party candidates—they weren't invited by organizers.
Tom Cook, special assistant to President Ginny Arthur, said KSTP used the Minnesota statutory definition of major party as their yardstick-—and no third-party candidate met it.
Before the debate, Libertarians gathered outside of St. John's Hall to protest KSTP's decision.  
"They were welcome here to make their views known," Cook said. "It was very peaceful."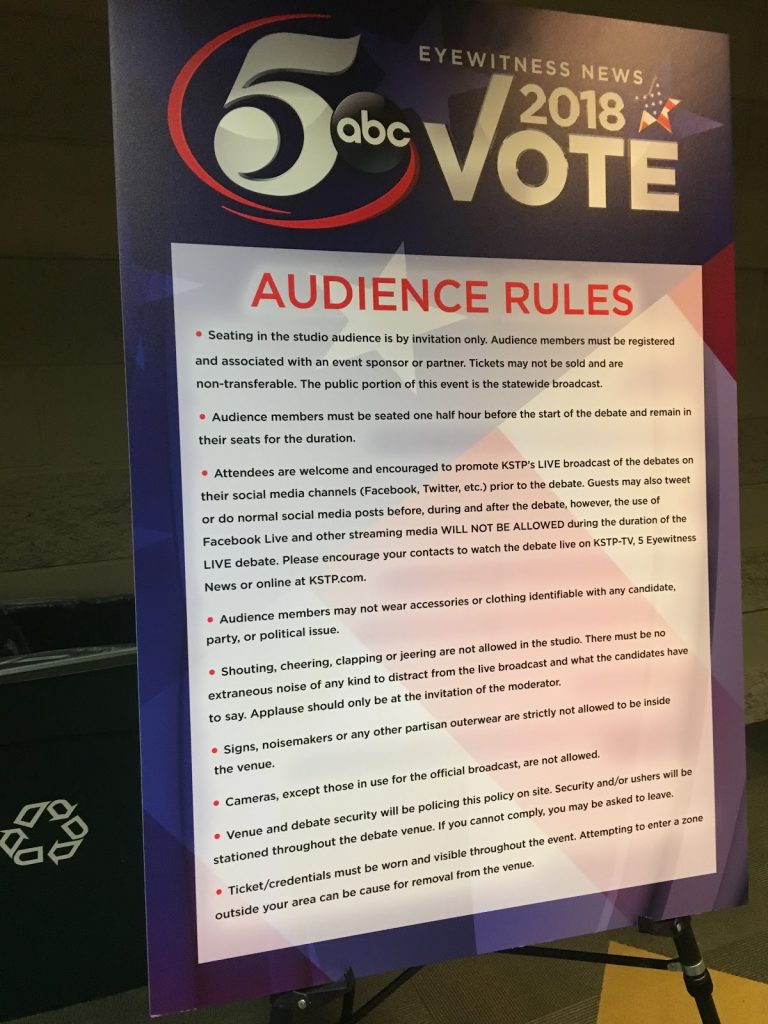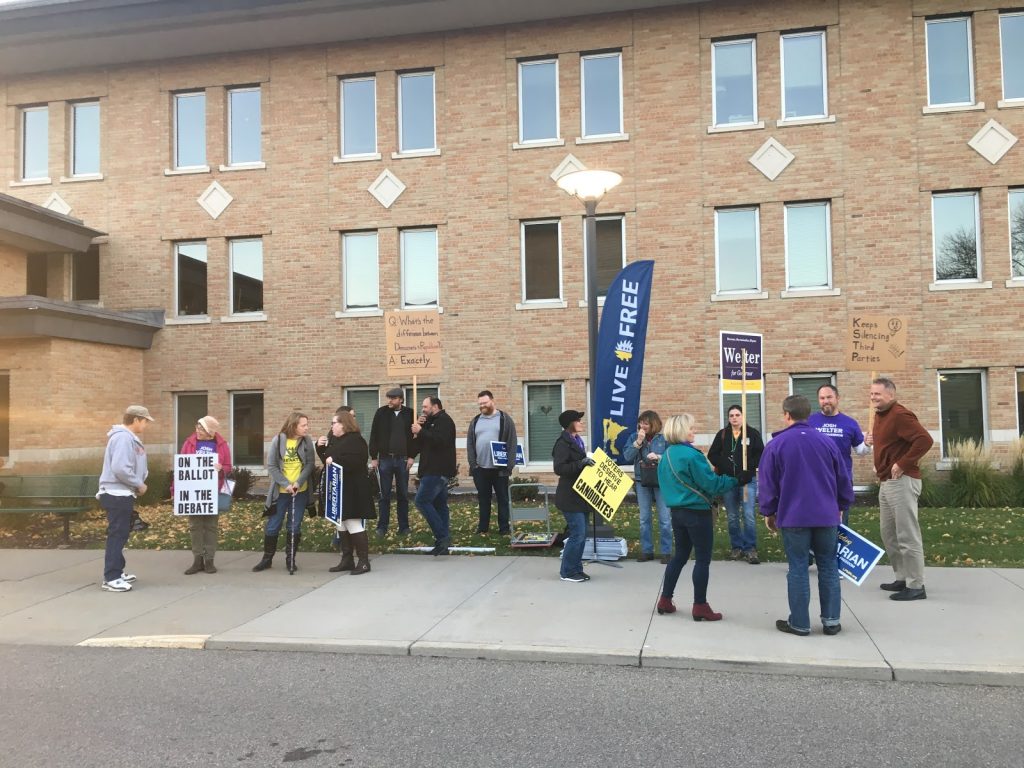 By the time the sun set, and the debate began at 7 p.m., protestors had cleared out.
Metro State staff and student volunteers were stationed throughout New Main, Founders and St. John's halls to guide ticket holders to their seats, welcome candidates and corral journalists.
On her way in to join the live studio audience, Provost Amy Gort stopped to extol Metro State's commitment to community engagement and elections.
"Tonight is about our values," she said. "It's about getting people what they need to make an informed vote."
Gort had one of Metro State's six allotted seats of the 100 in the hall. President Arthur was in the audience too, joined by Minnesota State Chancellor Devinder Malhotra and Professor Kathleen Cole of the social science department.
How did Metro State end up as the debate venue? "It was sort of coincidence, kind of fate," said Shannon Watson, public affairs director for the St. Paul Area Chamber of Commerce (SPACC).
On a tour of Metro State with Cook, a member of the chamber's board of directors, Watson learned the university had twice before hosted a KSTP televised political debate (in 2004 and 2010). That sparked an effort to bring candidates back to campus in 2018.
After many months of organizing, multiple debate sponsors had signed on: SPACC, Metro State KSTP, Prosperity's Front Door (an affordable housing advocacy group) and the Citizens League. Several chambers of commerce also signed on as partners.
"Public service—it's what our coalition was about," Watson said. "We wanted the debate to be free, without pundits, so people could hear directly from the candidates."
At the close of the three-hour broadcast, KSTP chief political reporter and debate moderator Tom Hauser thanked Metro State for providing "this beautiful space with the backdrop of St. Paul."
But beyond providing a picturesque platform, Cook said hosting had more to do with getting students engaged in elections. He saw the debate as complementary to the nonpartisan Metro State Votes campaign.
"We are happy to be able to use our assets to raise the level of information and engagement in our community," he said.