Pierre Young
Arts and Entertainment Editor
On a surprise visit to the Twin Cities on the morning of October 22nd, Vice President Kamala Harris came to Metro State University, where she was welcomed in the heart of downtown Saint Paul Campus. Her agenda was to address reproduction rights regarding the Roe v. Wade case that was overturned a while back and to emphasize the importance of abortion rights to make sure constituents vote on Election Day accordingly. Also in attendance with the Vice President were Lt. Gov Peggy Flanagan and Attorney General Keith Ellison for opening remarks. Lt. Governor Flanagan gave a speech filled with emotions, recalling becoming emotional while calling her mom about the overturn as well as citing, they knew it was going to happen, but it turned out more emotional than they anticipated it to be.
The community at Metro gave a standing ovation for Harris as she came on stage. Harris expressed that the government isn't doing anything about how they represent women in any kind of way. She stated that their needs to be a direction that needs to be followed due to the decline of our country not respecting human rights of people race and gender from our so called "leaders" Harris also addressed about women who have low-income who have the trauma they have dealt with from postpartum depression and not having to right to abortion. The light of end of the conversation is how Harris talking about Venn Diagrams which was humorous of how she was talking about them and showed it to the audience and she even told us her mental health routine on how she gets sleep and cooks. No matter how hard things get, she is always ready for a good fight.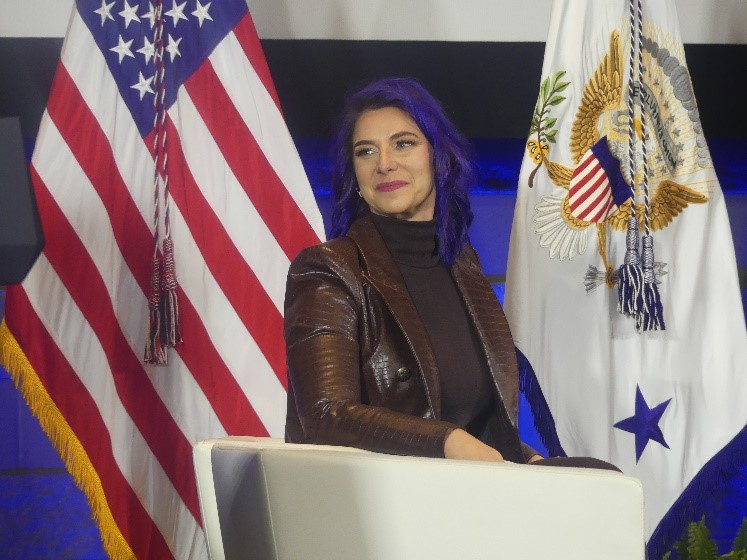 The event was recorded for a podcast called She Pivots, a woman-centered discussion platform, that streams on numerous podcast media. Being recorded with us at the Metro Community as the live audience, Emily Tisch Sussman, the host, had many questions about abortion rights on how to shape things better for women, especially in our country. She Pivots will debut the episode in the second season in March 2023 on audio streaming platforms: Spotify, apple music.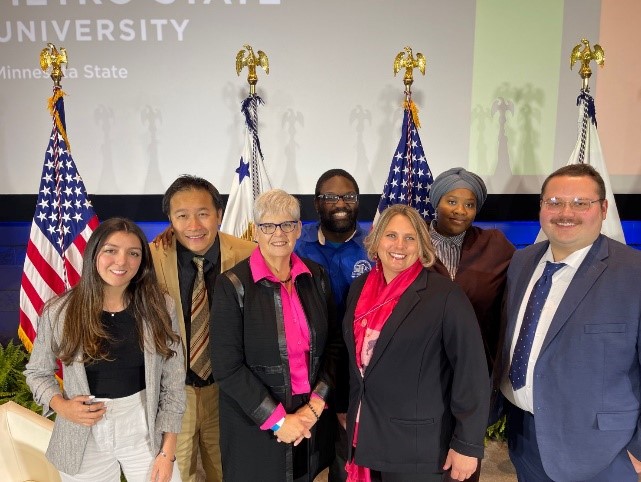 This is probably the best Metro State event I had ever attended in the four years I've been a student. I took the opportunity to do press for this event and was able to take lots of photos and got the front row seating in the auditorium to get the best view. My Metro State Student association was able to get access to the event as well. It would've been nice to meet Vice-President Harris herself to get a photo with the whole executive board. A rare opportunity like this was a once in a lifetime that I will remember that Vice President Harris was very close to my home to represent women and the LGBT community.