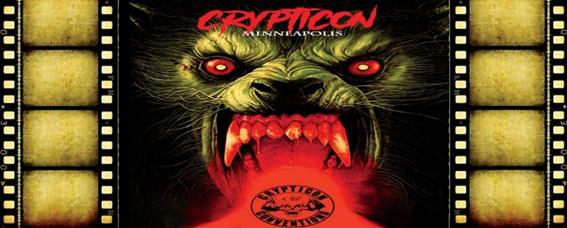 By Pierre Young – Arts and Entertainment Editor
(Courtesy of Crypticon)
Minnesota brings horror to Plymouth! In this 3-day weekend comic con, Crypticon is filled with celebrity guests from iconic horror franchises from Chucky, Scream, Nightmare on Elm Street and Friday the 13th! Guests included Alex Vincent, Christine Elise, Teo Briones (Chucky), Roger L. Jackson (Scream, Powerpuff Girls), Tom Arnold (Freddy's Dead), Jon Abrahams (House of Wax, Scary Movie franchise), and Ken Foree (Dawn of the Dead, Kenan and Kel)
This was my first horror convention, and it was an amazing experience to get out for a weekend to meet actors from legendary franchises. My co-photographer and best friend Anthony Anderson; photographer, musician, and YouTuber, allowed me to volunteer with him to interview congoers and celebs on what their favorite horror movies were. Most notably, I discovered that Christine Elise's favorite horror film is The Exorcist, and that Alex Vincent is not a horror fan, which is ironic because he plays the kid from Child's Play since in one of the biggest horror franchises. It was great to get that experience for the first time as I have always wanted to interview actors on a YouTube channel. It was so exciting to see all the merchandise from the con that I purchased so much for my uncle, who is a big horror movie fan.
My favorite parts of the convention were meeting the actors of the Chucky franchise and how they were promoting season 2 of the TV series based on the movie series. I attended the panel of the Chucky TV series, and it was a monumental moment to see the actors talk about the Chucky movies they were in and what scenes they liked and would have loved to be in Child's Play 3 since they recast Andy's actor (Vincent). Alex and Christine also spoke highly of the talented Brad Dourif the voice of Chucky, and of how he has been consistent over the years by providing such a thrilling voice.
I also met a Minnesota History teacher Daniel O'Brien who was selling his book titled Japanese Ghost in America and he told me he lived in Japan for over 12 years. He also told me about spooky ghost stories, and I told him my dream goal is to live and teach in Japan. O'Brian replied to me saying "If your goal is to go to Japan, it will happen." I took those words to heart, and I am glad I found a great resource from someone who has lived in Japan.
I recommend this convention to all horror movie fans as this convention needs to be marketed more through social media and theTwin Cities on flyers and billboards. I would love to go to Crypticon again and hopefully they will have promising guests for next year (Tony Todd, Candyman franchise). Next time, I'm hoping for a VIP pass to have dinner with these guests and honor their legacies. So, grab your costumes and let's go to Spooksville as Shaggy from Scooby Doo would say. HAHAHAHAHAHAHA!