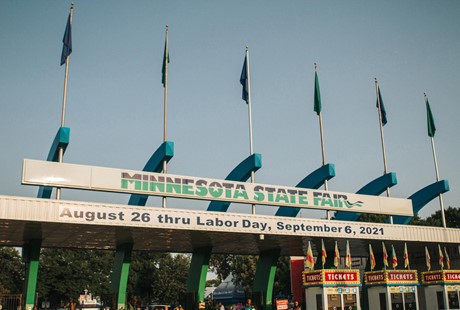 (Photo courtesy of the Minnesota State Fair)
JOSEPH PALUMBO
Arts and Entertainment Editor
The Minnesota State Fair is officially set to return on Aug. 26, 2021. Over a year ago, it was announced that "The Great Minnesota Get-Together" would be canceled in the wake of the cataclysmic COVID-19 pandemic. With vaccination rates on the rise, the Minnesota State Agricultural Society (the fair's governing body) has brought back the festivities Minnesotans know and love.
For over 135 years, the State Fair has been one of the largest and best-attended expositions in the world, attracting more than 2 million visitors annually. Showcasing Minnesota's finest agriculture, art, and industry, the fair is advertised as "12 Days of Fun" for good reason. The fair is a self-supporting agency which has not received any state government funding since 1949.
Some new attractions this year will include a roller coaster at Mighty Midway. The "Riptide" will reach up to a spine-tingling 55' high and have all the twists and turns that satisfy any adrenaline junkie. Other attractions to look forward to include the Joyful World Mural. This incredible display of imagination from local artists features 12 large-scale paintings that "reflect the world they wish to live in." The North American Six-Horse Hitch Classic Cart Central Regional Finals will bring forth premier draft horse hitches from locations spanning 12 states and central Canada, free of charge with fair admission.
Many of the same attractions we all hold dear will return as well, although in different locations than usual. Adventure Park, which houses some of the fair's biggest attractions including Skyscraper, Sling Shot, Turbo Bungy, and Rock Climbing Wall, is now located on the south side of Judson Avenue between the CHS Miracle of Birth Center and the Dairy Building.
The Future Farmers of America Agriculture Technology Exhibits, featuring large construction, agricultural, and home equipment; restored tractors; small-scale projects such as birdhouses and toolboxes; educational material and displays, and so much more, will now be showcased in the Agriculture Horticulture Building. There will also be restored tractors at the Old Iron Show, which will replace the former Machinery Hill. This exhibit will be located on the west side of Underwood Street between Lee and Randall avenues.
The State Fair has announced 56 brand-new (and 29 returning) beverages premiering or found only at the 2021 fair. In all, the fair features 300+ beverages. Such drinks include the tropical "Beach Cruiser Hard Cider," brewed in Minneapolis, Minnesota, by Sociable Cider Werks. Others include the sweetness of "Blue Razzmatazz," the thirst-quenching 1920s throwback "Blondie & Clyde," and "Minnesota Maple Mead," a little taste of the North Star State made with upper Midwestern honey and spiked with a splash of real Minnesota maple syrup.
At the Grandstand, there will be an incredible lineup of musical talents including:
Miranda Lambert with special guest Lindsay Ell
The Current's "Music On-A-Stick" featuring Lake Street Dive with special guests Low Cut Connie and Kiss the Tiger
TLC and Shaggy with special guest Bone Thugs-n-Harmony
The Doobie Brothers "50th Anniversary Tour" with special guest Dirty Dozen Brass Band
Tim McGraw with special guest Midland
The Chainsmokers with special guest GASHI
Music, Movie and a Conversation with Kevin Costner & Modern West
George Thorogood & The Destroyers (For their "Good To Be Bad Tour: 45 Years of Rock")
…and much more!
Naturally, there are concerns about how reopening the State Fair is going to work. As of yet, there are no capacity limit for attendees. Sanitation measures will strictly adhere to state and federal guidelines. The fair itself will have no mask requirements (as an event of this size would make it difficult to enforce) but those who are not fully vaccinated are strongly encouraged to wear them. All public transportation will require passengers to wear masks en route to the fair. Proof of vaccination will not be required for staff, vendors, or guests.
Thankfully, the Minnesota Department of Health, Ramsey County, and Homeland Health are offering all eligible fair guests a "shot" to roll up their sleeves and get free COVID-19 vaccines. Guests can walk into the community clinic in the North End Event Center to receive their vaccinations, and after a short waiting period, return to the fun. No appointment, identification, or insurance necessary.
"From the day we canceled, our priority has been to ensure the future of the fair by holding our operation together," said General Manager Jerry Hammer. "I cannot stress enough how critical our expert staff is to the success of the fair. They're experienced pros, and there is no fair without them. Our staff is ready to go, and we can't wait to welcome everyone back together at the State Fair."
Danielle Dullinger, the spokesperson for the State Fair, proudly proclaimed "We're very grateful this year to welcome people back to the fair, but know that we are doing everything within our power to keep them safe and make sure that everyone who feels comfortable has a good time this year."
Will you, your family, and friends attend the fair this year? That will be up to each one of you. While many have reservations about going to one of the biggest events in the country during this uncertain time, it is also understandable for many of us to seek that return to "normalcy", if such a concept can be found at all. No matter what you decide, it is undoubtedly hoped by many that the future will guarantee a swift and safe return to "The Great Minnesota Get-Together."
For more information on Health and Safety
Visit https://www.mnstatefair.org/updates/
For Admission Tickets
Visit https://www.mnstatefair.org/tickets/admission-tickets/