Empty walls in Metro State buildings will soon see an infusion of color and texture thanks to the purchase of new artwork by students and alumni.
Four works were chosen as 2018 Art Purchase Award winners by the university's Art Exhibition Committee.
Winners will receive $1,000 for each piece of art, which will become part of the university's permanent collection.
Selected works include two acrylic paintings by alumnus Adam Bucher of St. Paul; a colored-pencil drawing by studio arts major Lynn Vincent of White Bear Lake; and a gouache painting by alumna Susan Solomon of St. Paul.
Bucher—who designs and DJs as Booka B—graduated from Metro State in 2013. He built an individualized studies degree that blended his interests in studio art, design, typography and music production. He incorporated coursework from the University of Minnesota, Berklee College of Music, Minneapolis Community and Technical College (MCTC) and Minneapolis College of Art and Design (MCAD).
"I look back at that period of time as a pinnacle experience for me as a student," Bucher said. "Being able to focus on my work within a community of artists was tremendously inspiring and created the momentum for me to dive into a full-time art career."
Since graduating, Bucher has kept art and music as equal priorities. He is self-employed as a fine artist, graphic designer and DJ in the Twin Cities.
"I believe my fine art informs my design work," he said. "And vice versa—both being inspired by the sharp, clean contrast of my pen and ink drawing and calligraphy."
Bucher said it is an honor to be selected for not one, but two Art Purchase Awards.
"Selling artwork can be bittersweet for me because I'm often attached to the pieces," he said. "But it also adds strength to my decision to be an artist, and great to have new momentum to continue painting."
In addition to the walls of his alma mater, Bucher's work can be found in the First National Bank Building in St. Paul and Radisson Blu Minneapolis. He was also the subject of a MN Original profile on Twin Cities Public Television in 2017.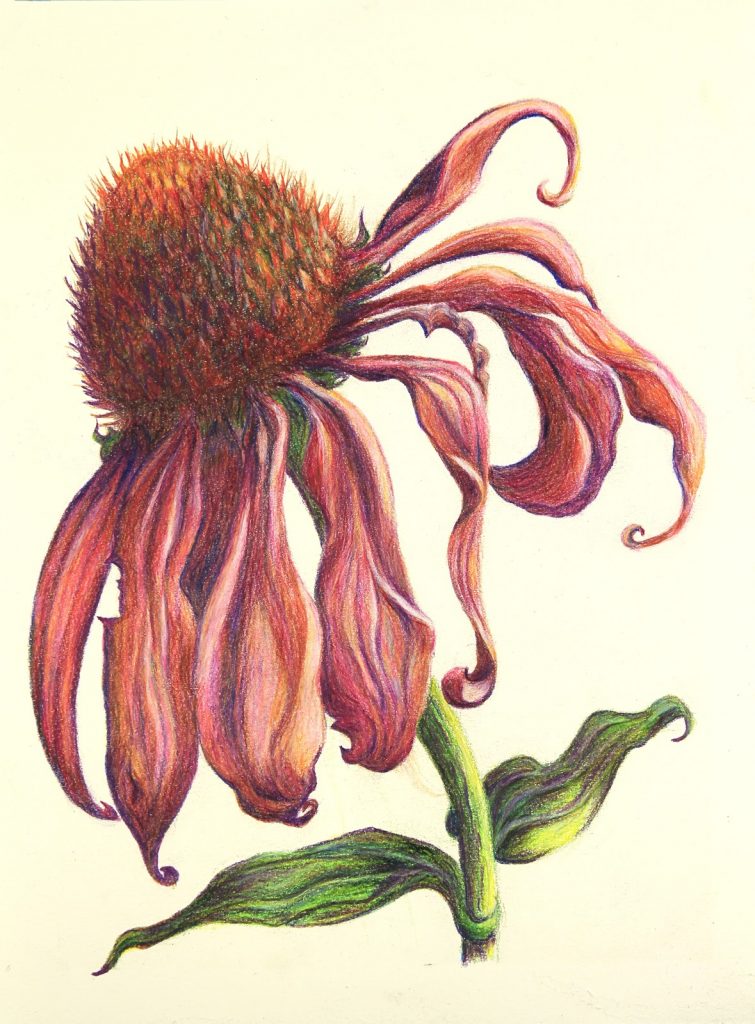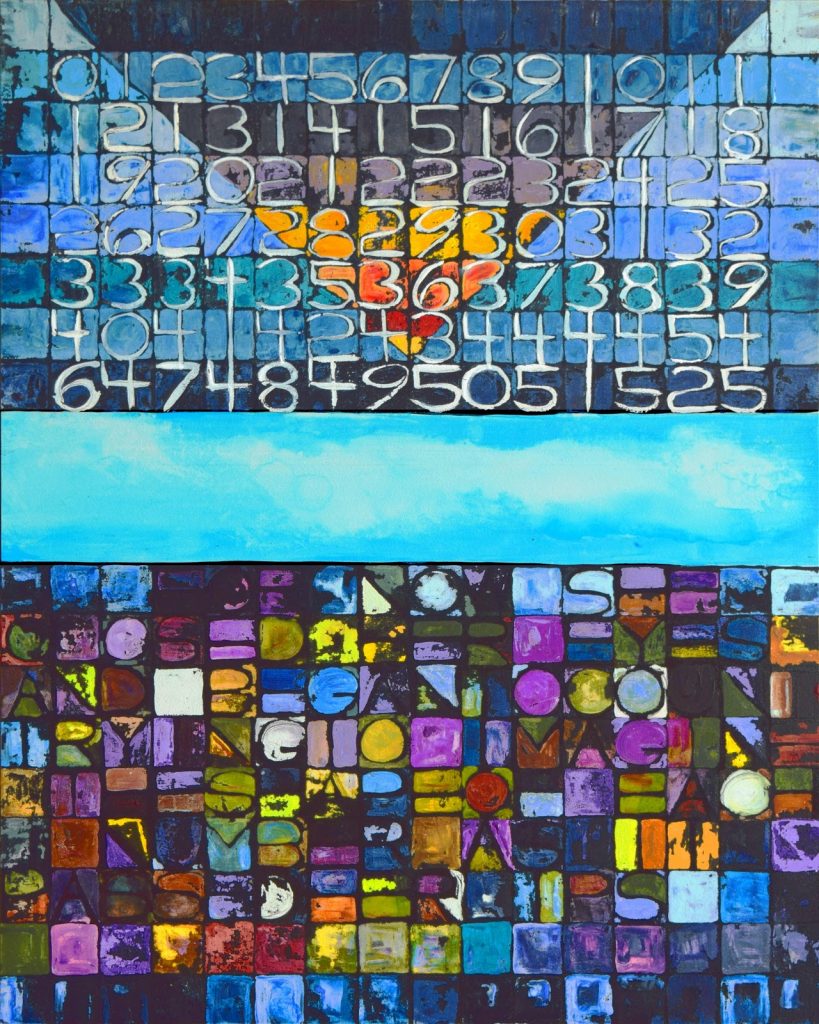 For studio arts major Lynn Vincent, "blood sweat, tears—and a whole lot of fun" went into "Healing Echinacea," her drawing of a purple coneflower.
She expressed deep gratitude to studio arts faculty for sharpening her drawing technique—and for the surge of self-esteem that comes with producing award-winning work.
"In art, you really need those mentors to help you see where your blind spots are and help you discover your process," Vincent said. "I have really blossomed at Metro."
Vincent raised two children and worked as an acupuncturist before enrolling at Metro State to pursue her long-dreamed-of college degree. She said her classmates and instructors have been enormously welcoming to her as an older student.
She will graduate in fall 2019 with what she calls her "50-year bachelor's."
"When I walk across that stage next year, it will have been 50, five-zero, years that I've been working on my bachelor's," she said. "It just really touches my heart to know I'm accomplishing this and—finally—majoring in art."
Alumna Susan Solomon is unprecedented in receiving an Art Purchase Award three years running. And her strengths lie not just in paintbrush strokes on canvas, but also in written words.
She is 2008 graduate of Metro State with a bachelor's degree in creative writing. She also holds a master's in fine arts in creative writing from Hamline University and a four-year painting certificate from the Pennsylvania Academy of the Fine Arts.
"Attending Metro was one of the best decisions I ever made," she said. "Although the symbolic logic class almost killed me!"
After starting an online literary journal called Sleet Magazine and working in healthcare, she now paints full time.
"This award means so much because it is from my peers and from people who care about art," Solomon said. "I always thought I was an artist but was hesitant to say it out loud until very recently."
Solomon just completed a collaboration with California poet Richard Jarrette. Her paintings will illustrate Jarette's poems in "The Pond," to be published by Green Writers Press in March.
Applications for the 16th annual Art Purchase Award will be available in spring 2019. Inquiries can be directed to Assistant Professor Amy Sands at amy.sands@metrostate.edu.