Student leaders, organizations and advisors were celebrated at the 20th annual President's Student Leadership Awards dinner held May 9 in New Main Great Hall.
Student Life and Leadership Development (SLLD) and the Alumni Association sponsored the awards, which have been a yearly tradition since the 1998-1999 school year.
Philip Fuehrer, the assistant director of Student Leadership, served as host for the evening and described the event as one of his personal favorites. He announced that the winners would each receive a $100 cash award from the Alumni Association.
The Cyber Security Forensics Student Organization (CSFSO) was named Organization of the Year. The group competed in collegiate cyber competitions and held a "Think Safe, Be Safe" educational event about cybersecurity threats to personal devices.
Professor Faisal Kaleem, CSFSO advisor, praised the students for their dedication and time commitment. They met on Saturdays for nine months to prepare for competitions.
Alex Hepp, CSFSO member, said it is an exciting time at Metro State as they develop a new cybersecurity major and open the MN Cyber Range.  Hepp encouraged all students to check out these new offerings and to train with the CSFSO. "You don't have to be a techie," he said.
Student Leader of the Year went to Student Senate President Heather Moenck and Katherine Anschutz of the Alcohol and Drug Counseling Student Association (ADCSA).  
Moenck said she appreciated her experiences as leader of the Student Senate. She travelled with Students United to Washington D.C. to lobby on issues like textbook affordability and affirmative consent. She worked with the "Philando Feeds the Children" effort initiated by Pam Fergus, a Metro State psychology faculty member. The campaign had an initial goal to raise $5,000 to pay off student lunch debt at the elementary school where Philando Castile worked. Moenck was amazed that the ongoing cause has raised well over $100,000.
Anschutz said the award is a wonderful honor as she did not originally seek a leadership role. She said that leadership found her and she was happy to take an active role in a student organization. Anschutz also had high praise for Deborah Mosby, the ADCSA advisor and associate professor of human services. "[Mosby] is an instrumental person in the community," she said. "She has a lot of passion for what we do."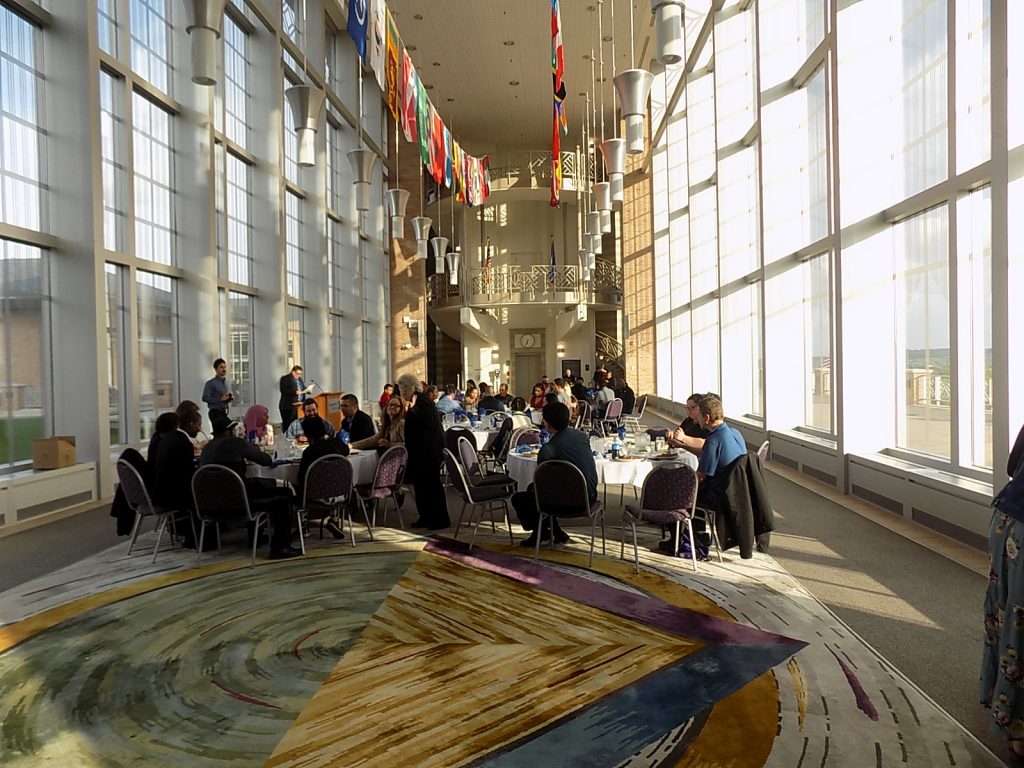 Guyo Kotile, the 2017 Student Leader of the Year winner, presented the awards. Ashley Coyle of the Student Senate and Lorraine Onchirri, a science student and lab assistant, were also nominated.
Program of the Year was awarded to the Alcohol and Drug Counseling Student Association for the "Opioid Overdose Prevention and Narcan Training" program.  Heather Lou, director of Student Life and Leadership Development (SLLD), commended the students for learning from tragedy and working to make a difference in people's lives.  
Anschutz spoke on behalf of her group and acknowledged the support they received from the Steve Rummler Hope Network. The event was co-sponsored by the Nursing Student Organization and instructed students on how to recognize an overdose and administer Narcan. Anschutz said the Narcan program is "proactive and not reactive," and trains people to "save lives instead of dealing with the trauma."
Deborah Mosby was named Group Advisor of the Year for her work with the ADCSA.
Mosby, a previous winner of the award, praised the energy and hard work of the students. "This was one of my best years at Metro State and it is because of hanging out with you guys," she said.
Jodee Fitzgerald, advisor for Transforming Health & Empowering Minds (THEM), and Faisal Kaleem, CSFSO advisor, also received nominations.
Student Life and Leadership Development solicited nominations for the awards in March and April. Self-nominations were allowed.  Quina Davis, TRIO office manager, student Mohamed Mohamed and Philip Fuehrer served as the nomination selection committee.