Transforming Health & Empowering Minds (THEM) is a student organization working to build health awareness on campus and teach students how to improve their well-being.
"We felt that students just associated health with exercise and fitness," said Candice Eishen, a marketing major and treasurer for THEM. "Health is much more than that. Health also includes self-care and mental health."
Transforming Health & Empowering Minds was formerly known as the Health and Wellness Student Association (HWSA). HWSA was an active Metro State student organization up until 2012. A few eager students, including Mitesh Rai, brought it back to life last fall. The one thing that did not come back was the name of the organization.
The group wanted a new name that reflected their mission. "We want to encompass more aspects of health and tie everything together to include holistic health, nutrition and stress management,"  said Eishen. With that goal in mind, THEM is discussing bringing a therapy dog to campus and providing healthy snacks to students.
THEM aims to be an integral part of Metro State's Healthy Campus 2020 commitment.  This initiative, led by the American College Health Association and Metro State's Healthcare and Wellness Services, wants to help people live longer, healthier and happier lives.
To encourage students to use the fitness room in the Student Center, THEM promoted a punch card program from Feb. 2 to March 5.  They advertised the punch cards and prizes on D2L, Facebook and flyers. To participate, students punched their card at the front desk of the Student Center every time they used the fitness room.  Students turned in their completed cards to Jodee Fitzgerald, Healthcare and Wellness Services coordinator and THEM advisor.
According to Fitzgerald, 17 students won $50 Target gift cards for using the fitness room more than 12 times.  THEM members were pleased that 26 students participated in the program and used the fitness room.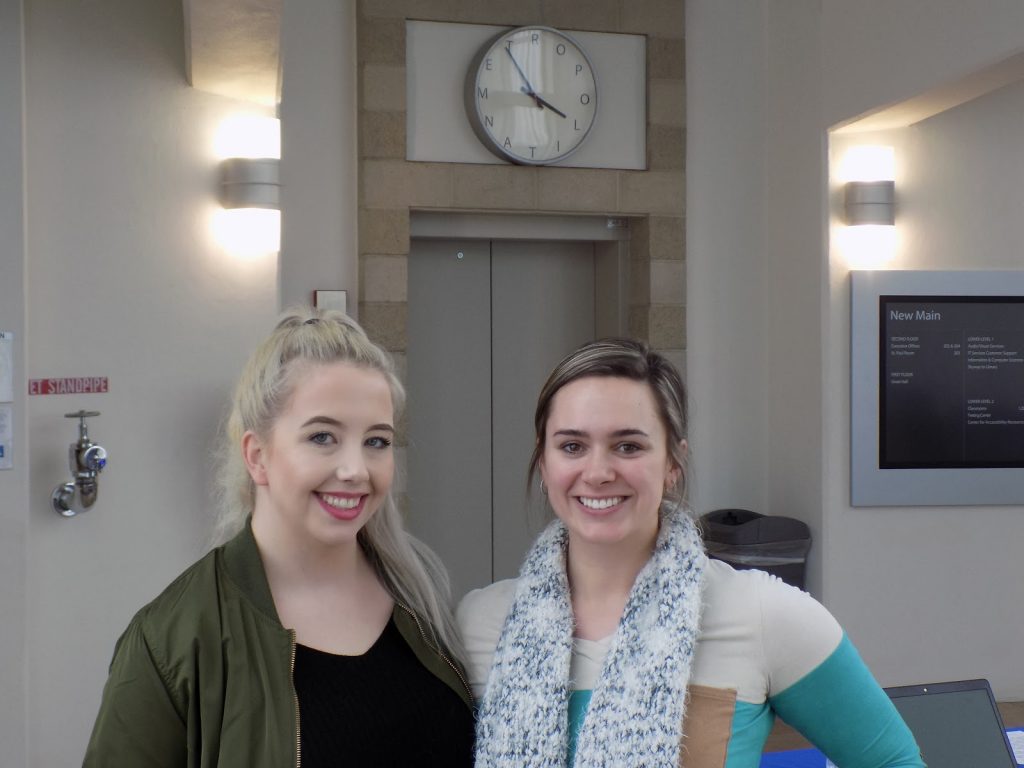 THEM members volunteered at the American Red Cross blood drive on March 20 at Metro State. They also co-sponsored a Brain Awareness Week event featuring speaker Dr. Cynthia Harley, assistant professor in natural sciences. Last semester, they participated in a free flu shot clinic for students.
Members are planning to participate in the upcoming Metropolitan State University Health Expo.  The event will be held on April 17 from 11 a.m. to 1:30 p.m. in New Main Great Hall.
The Health Expo will offer games, food and exercise demos. It is open to the public.  The Health Expo will also feature exhibitors such as Arc Minnesota, the City of St. Paul, Mississippi Market Natural Foods Co-op, and Urban Roots.
THEM will be among the exhibitors.  The group is planning to give students health tips for surviving the semester.  The club will raffle off a Fitbit Charge 2, Beats wireless headphones, a yoga set from Live Infinitely, and a $150 Nike gift card. THEM will use the raffle proceeds to help a student in need or to sponsor a walk/run activity at a St. Paul park, said Eishen.
The club would like to see more students outdoors when the weather gets warmer, said Storm Gregorich, a biology major and president of THEM.  The group could bring bocce ball or "frolfing" (disc golf) to campus. Students can also sit outside and enjoy the grass, she said.
THEM would like to bring group fitness classes to Metro State.  Zumba and yoga classes could take place in Student Center 101. Gregorich is studying for her yoga instructor certificate and wants to offer yoga demonstrations on campus.
According to Eishen, students do not have to be health experts to join THEM. She said most of the current members have non-health related majors, such as business. Eishen is using her knowledge of marketing to create flyers for THEM. She is also exploring her personal interest in health.
"I really enjoy bringing people together for fitness and health," said Eishen.  "I want to educate and bring a sense of community to the campus."
THEM meets the first Monday of each month from 3:30 to 4:30 p.m. in room 254 in St. John's Hall. To learn more about THEM, see orgsync.com/43471/chapter. The club is seeking new members and a student to serve as vice president.