Her award is new. But the making of Erica Spitzer Rasmussen's winning artwork, "The Love Affair," stretches much further back in history.
Rasmussen, a studio arts professor at Metropolitan State University, won the 2018 Minnesota Book Artist Award for her sculptural book, "The Love Affair."
The award is given by the Minnesota Center for Book Arts and the Friends of the St. Paul Public Library, as part of the annual Minnesota Book Awards. The statewide competition was established in 1988. It recognizes a Minnesota book artist for a new artistic work and their contributions to the book arts community.
Rasmussen had served as a judge for the competition, and had applied for the award once. So she knew she would be competing against many talented book artists.
"When I learned that I won the award… I cried," said Rasmussen. "I was so touched and honored because it meant that I did it for something and that [my artwork] is not going to sit in storage. People will see it and will learn about it. My risk taking was acknowledged. I was so happy for that."
The story of "The Love Affair" begins when her grandparents first met during World War I. After the war, they went their separate ways, but they continued to exchange letters with each other.
Could they have imagined that one day their love letters would be passed down to their granddaughter and she would turn them into a work of art?
Almost 100 years after her grandparents met, Rasmussen acquired their letters. She stitched together art and history to make "The Love Affair."
The sculptural book tells the story of Rasmussen's grandparents as they lived through the early 1930s. She made it to fit into a wooden suitcase that her grandfather made.
When Rasmussen received the love letters, she immediately began to think of ways to create art from them. It took months of pondering before she knew what to do.
"I was scared," said Rasmussen. "It almost seemed sacrilegious that I should do something to such precious material."
She realized she would have to cut her grandparents' history to pieces.
"I thought for sure the first time I cut into [one of the letters] that I was going to be struck down by lightning," said Rasmussen. "I thought something was immoral with this process, but I did it. I cut into the letters."
Rasmussen began the painstaking task of reading, cutting, and binding the love letters together. It took her about four months to complete the project.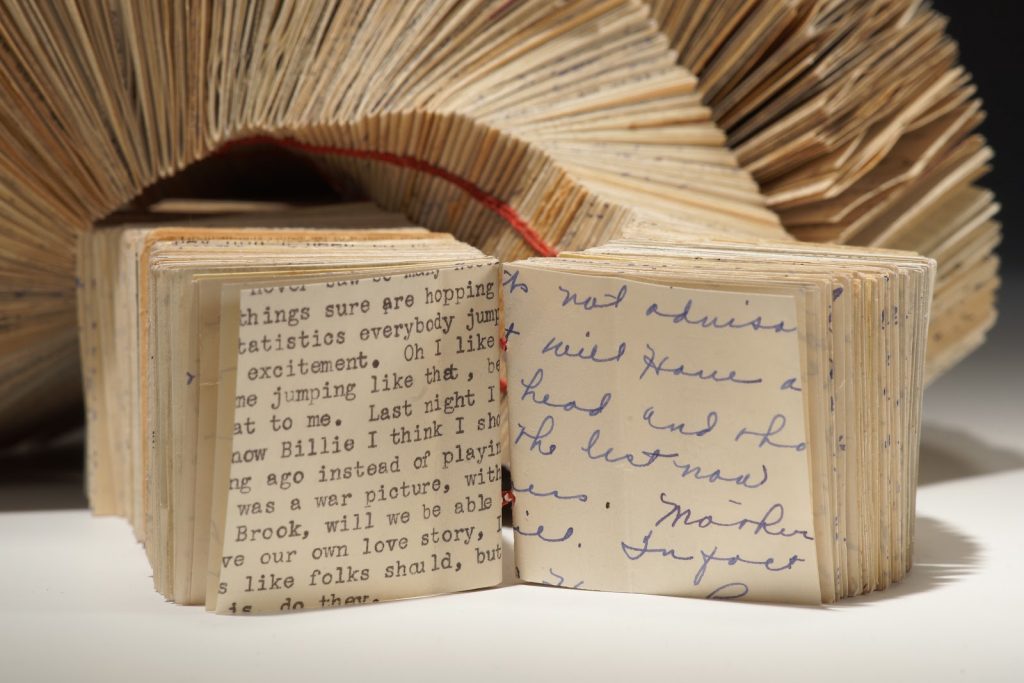 "The reason I stopped at six thousand pages is because I finally made a book that was big enough [to fit into the box my grandfather had made]," Rasmussen said.  "I wound the book into an infinity symbol. I wanted them to find a way to continue their conversations from life into death. I wanted to help them carry on this love that they have for one another."
As Rasmussen read through the numerous letters, she learned more about her grandparents. She had never met them. Now she knew them intimately through their writing.
"My one regret about making the book is that I don't have an archive anywhere, except in my head, which will become foggy overtime," said Rasmussen. "But it was a wonderful experience, those four months of savoring those letters and reading them one by one."
In the end, Rasmussen realizes that her work is far from immortal. "Will [it] last three hundred years? No, it won't. But it helps me express myself in this time," she said.
In "The Love Affair," Rasmussen hopes to communicate the eternality of love and family. "I am pleased that I can preserve the voice of my grandparents," Rasmussen said. "I love telling stories."
"The Love Affair" is on display until March 13 in the Cowles Literary Commons on the second floor of Open Book, 1011 S. Washington Ave, Minneapolis. The closing reception is 6 to 8 p.m. on Friday, March 9.