Networking is a necessity.
That will be the message for students at the Career Ideas Festival, hosted by the Metro State Career Center on Friday, March 16.  The event will take place in Founders Hall Auditorium from 8:30 to 10:15 a.m.
Marcia Ballinger, an executive search consultant and recruiter, will be the featured speaker. She will discuss how college students can start making career connections while still in school. Ballinger is co-founder and principal of Ballinger Leafblad, a St. Paul executive search firm that specializes in nonprofit organizations.
The Career Center booked Ballinger for the event to give students the tools and confidence to start networking now. "She has sat in on thousands of interviews and watched who was successful and who wasn't," said Bill Baldus, director of the Career Center. "Those who were connected in were always more successful."
Meet Marcia Ballinger
Ballinger holds a doctorate in organization and management from Capella University. She is a member of the board of directors for several Twin Cities nonprofits, including Children's Home Society of Minnesota and Interfaith Action of Greater Saint Paul.
She has been named to the "50 over 50" list by AARP Minnesota and Pollen.  This list recognizes entrepreneurs over the age of 50 who made significant contributions to Minnesota's economy and community. She also received a Luminary Award from the National Association of Women Business Owners.
Ballinger is a published author. She wrote "10 Questions a Board Should Ask before Hiring a New Leader" for The Chronicle of Philanthropy. Ballinger also co-authored "Winning the Executive Interview" with Kevin Johnson, and co-authored the "20-Minute Networking Meeting" with Nathan A. Perez. The graduate version of this publication won a best book award from USA Today College.
Take 20 minutes to jump-start your job search
In Ballinger's book, "The 20-Minute Networking Meeting," there are two types of networkers: one is successful, one is not.  What's the difference between the two? Preparation.
Job seekers who are unorganized and lack an agenda for their network meetings will make a poor impression.  Network contacts will be reluctant to advocate for these individuals. These contacts will fear that they will act similarly around their associates.
Ballinger and her co-author point to "undeveloped networking skills" as the "the leading cause of closed doors and unanswered calls."
According to the book, many companies do not list jobs in ads or online postings. Instead, these opportunities are available through the "invisible job market." The authors estimate that 70 percent of hired individuals receive a job through people they know. Hiring managers often ask other employees, "Who do you know can do this job?"
While companies do hire employees through job postings, the competition for these positions is fierce. Employers have to sift through thousands of resumes to select one applicant. Want to stand out from that crowd? Ballinger makes the case that job seekers must network.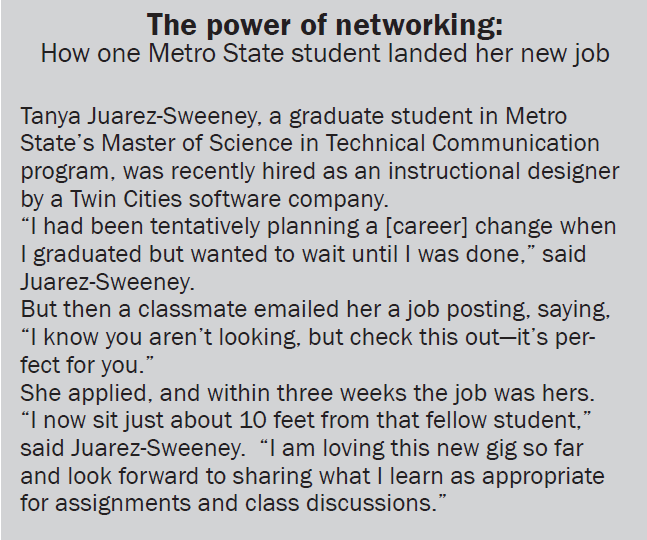 Learn from those who know networking
After Ballinger's presentation, there will be a panel discussion with representatives from Twin Cities employers such as Andersen Corporation, Cyber Intelligence Cyber Security, General Mills, Hennepin County, and U.S. Bank. The representatives will explain how they developed their own networks and how that has helped their careers.
Bill Baldus of the Career Center hopes students won't delay in registering for the event.
"When it comes to a job search, 80 percent of significant jobs are filled as a result of real human connection," Baldus said. "You can't wait until you need a professional network to start building it—you need to start now."
Students can register at metrostate.joinhandshake.com with their email and password. After signing in, select the "Events" tab on the top menu bar and choose "2018 Career Ideas Festival."  Faculty and staff can register at eventbrite.com. Seating is limited. The first 200 people to register will get a free copy of Ballinger's book.
For more information, contact the Career Center at career.center@metrostate.edu.